Book Santa Mini Session
Welcome to the 2019 Christmas Mini Session booking page. Christmas mini sessions with Santa at Cluny Court will be available on Wednesday 27th November, Thursday 28th November, Wednesday 4th December and Thursday 5th December, between 3pm and 6pm.
Fill out your booking below, or email info@irinanilsson.com to reserve your slot.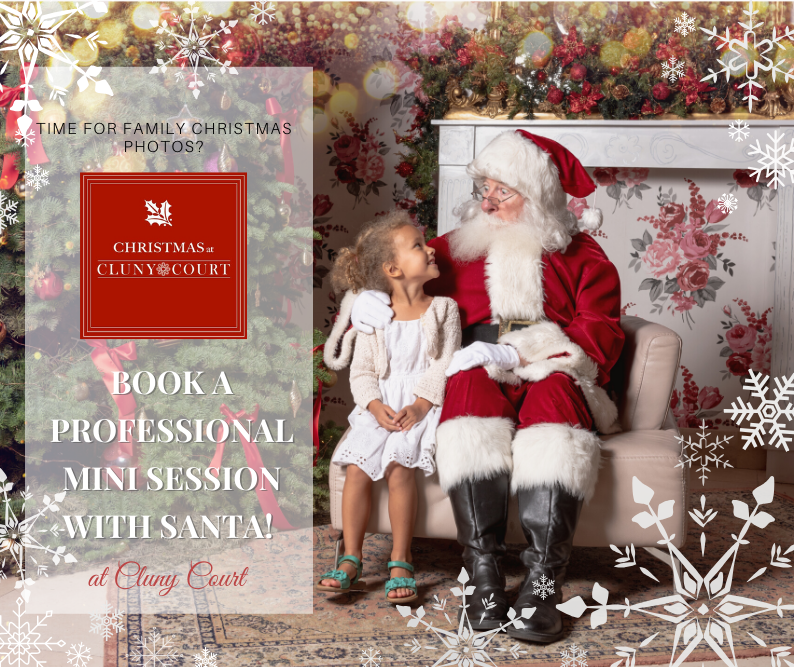 How to book through this page:
Step 1. Read through Terms and Conditions on the bottom of this page.
Step 2. Choose your Package of 3, 5 or 8 edited images. Click: NEXT
Step 3. Choose your preferred date and time for a photoshoot. Click: NEXT
Step 4. An invoice will be sent to you within the next few days.
Step 5: You are done! Thank you for booking your Photoshoot with Santa at Cluny Court!


---
T&C
Timing

Sessions are mini 5 minute sessions. The slots are limited and booked back to back so please arrive on time to ensure that you receive the full time allowed for your session. Time slots will not be extended for late arrivals.
Session and image selection
Your session fee includes 5 minutes with Santa during your 5 minute photography session. The Photographer will select the images to edit from the session. The photographer's judgment regarding which images to edit shall be deemed correct. The images will be lightly retouched, such as removal of blemishes, scratches etc.

Your chosen digital package will be available for download through a private online gallery within 2 weeks of the session. Unedited files or RAW files will not be available.
Cancellation, Rescheduling and Payment

Please note that your session fee is non-refundable. In the event that you cancel your Christmas mini session after it has been scheduled and the invoice has been paid, no refund of your session will be made to you. If you need to change the time slot of the session after booking then any new time slot will be subject to the Photographer's availability and can not be guaranteed. Payment and acceptance of these terms and conditions is required to complete your booking. Your invoice will be sent out within a couple of days after booking and are due at receipt. Discounts are not eligible to be redeemed against mini sessions due to the already discounted price.
Responsibilities

Every child is different which means no pose or expression can be guaranteed!
Irina Nilsson Photography cannot be held responsible if your child is reluctant to be photographed. We will try our utmost to capture as many photos as we can but we cannot issue refunds if your child decides they do not want to be photographed!
The photographer will always use the highest standard of care when working with the client's children but responsibility for their child/ren and their safety will remain with the client at all times.
No Behind the Scenes photography!

Clients are not permitted to bring camera equipment to the photo session and any behind the scenes photos must be taken with the explicit consent of the photographer at all times. Furthermore, images taken in this way must be shared with the photographer only and are not permitted in the public domain without the Photographers written consent.
Force Majeure or Act of God

Although all equipment is checked regularly and reasonable steps are taken to ensure backup equipment is available, the photographer will not be responsible for photographs that are not produced due to technical failure. The photographer will not be held responsible for cancellations or acts beyond their control.
Attendance

In the unlikely event of the Photographer being unable to attend the photo shoot due to unforeseen circumstances, Irina Nilsson Photography will attempt to find a replacement photographer to carry out the photo shoot.
Copyright and Use of images
The Client understands that any images purchased are for personal use only and cannot be used for commercial purposes without explicit consent of and credit to the photographer.
Irina Nilsson Photography uses social media to market their work. Unless advised otherwise in writing, the client(s) hereby allow(s) Irina Nilsson Photography to use the images from the clients session for the promotion of their business and services.
Liability

Irina Nilsson Photography is released from all claims and liability relating to these images. The limitation on liability shall also apply in the event that Photos are lost through equipment malfunction or otherwise lost or damaged where the Photographer is not liable.
Privacy

We take your privacy seriously and will not pass your contact information for marketing purposes to any other organisations.
Thank you for booking your Mini Christmas Session with Irina Nilsson Photography!